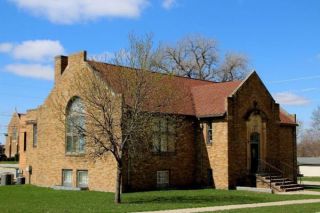 About the Gibson Memorial Library
Taken from a history written March 13, 1934, author unknown.
In 1873 the Creston Library was first opened in a building erected at the corner of Union and Maple at the expense of the Burlington Railroad. This company was interested in the founding of a library to furnish a pleasant place for the railroad employees to spend their evenings.
The room on the ground level was fitted up for the library and the space on the second floor was used for entertainment on weekdays and for religious services on Sunday. The rental of the hall was used for expsenses.
For many years the Library was in prosperous circumstances, but as time went on it slowly became involved in debt.
The Library was moved several times back and forth from the north to south side.
The Library was then opened in a room at the high school building. It was used for reference work by the students, but was also open to the public.
When the new high school was opened in 1889 the students had access to a library of their own at the school. The students, therefore, did not use the library as extensively as before.
There was now a noticeable lack of reading material for Creston citizens. Two attempts to get a Carnegie library failed.
In 1930 Mrs. Frank Phillips of Bartlesville, Oklahoma gave Creston $25,000 in memory of her mother, Matilda Gibson, who had been very active in church and charity work.
This money was used in buying the grounds and erecting a beautiful join clubroom and library. The Matilda J. Gibson Memorial Library was formally opened on April 7, 1931.

Source: A History of Matilda J. Gibson Memorial Library 1873 - 2006 compiled by Loy Christensen. Edited by John Judd. Printed by Petznick Printing Co.

Gibson Memorial Library Librarians (1931 - Present):
Carole Stanger (1977 - 1998)

Sonja Breen (1998 - 1999)

Diana Dillinger (1999 - 2001)

Marilyn Ralls (2003 - 2015)

Dr. David Hargrove (2015 - 2020)

TBA

Librarians before 1931 :
Mrs. Matilda Bowman (C.B.&Q. Librarian, the first Library was located at Union and Maple, and Mrs. Bowman also worked at the Public Library at the Junior High School)

Rose Hill (Public Library at Junior High School)

Gertrude Hatton (Public Library at Junior High School)

Mabel Hatton (Public Library at Junior High School)

Carrie Hatton (Public Library at Junior High School)

Mrs. Gertrude Jay (Public Library at Junior High School)

Isabella E. Alderson (Public Library at Junior High School)

Library Historical Newspaper Articles and Documents
| Thumbnail | Title | Date Posted |
| --- | --- | --- |
| | Wednesday, April 8, 1981 - CNA | 3/5/21 |
| | Wednesday, April 8, 1931 - CNA | 3/5/21 |
| | Tuesday, April 7, 1931 - CNA | 3/5/21 |
| | Treasure Chest Reading Club Certificate.pdf | 3/11/21 |
| | Telling our story 2008 Document | 3/9/21 |
| | Summer Reading Certificate 1955.pdf | 3/11/21 |
| | Monday, April 6, 1931 - CNA | 3/5/21 |
| | Matilda Gibson Memorial Library Club Room Rules.pdf | 3/11/21 |
| | Linda R. Huffman Brochure | 3/11/21 |
| | Friday, April 3, 1981 - CNA | 3/5/21 |
| | Friday, April 3, 1931 - CNA | 3/5/21 |
| | Creston's First Library | 3/11/21 |
| | Creston Library Assocation Rules & Regulations.pdf | 3/11/21 |
| | Circulation Report - May 1931.pdf | 3/11/21 |